Written by Courtney Steels, IAFR Member
Entering the Hotel Palladium on Thursday morning, we were greeted and given a goody bag, seeing
pastries off in the corner of my eye I sensed we were in good hands in Toulouse. A fantastic venue of
the with two large presentation rooms, including a large amphitheatre that had seats so low and
comfortable you worried you might doze off it wasn't for the quality of the speakers and the topics
presented.
The introduction to the event from Fabrice Dedouit, chair of ISFRI and representatives from Toulouse
University and the Occitanie region, we were reminded how the last few years had really shaken
things up and made it feel even more special that attendees from 26 countries could come together
for this scientific meeting face to face.
Getting underway, the opening sessions spoke about Artificial Intelligence (AI) and its links with
medicine and death along with radiological innovations. Anthony Gonnet Vandepoorte from No
Limits was invited to start off the opening session and had plenty to catch up and teach a crowd of
forensic imaging professionals about AI principles. Given the talk surrounding AI in the imaging world
currently, we could sense this could be an exciting theme throughout the conference and be the end
of the conference I certainly felt an excitement and almost nervousness too see how AI will impact
and evolve clinical and forensic imaging.
Topics of interest presented regarding AI and radiological innovations were:
Use of AI for predictive medicine, new ways to store and share medical records and data and
genomic analysis.
Global Illumination Processing/Cinematic rendering techniques which is a type of Deep
Learning that aims so supersede Iterative Reconstruction methods as well as reformatting
methods such as 'Open Rib' which splays the ribs out into a single plain for easy detection of
subtle rib pathology and time saving on reporting.
The use of machine learning to display multiple CT windows simultaneously.
Evolving use of Micro CT in forensic and postmortem setting for weapon analysis, subtle
pathology detection in small structures such as the hyoid bone and thyroid cartilage,
foetal/infant imaging and image presentation in court cases.
Use of Lodox equipment in the absence of CT or other dedicated forensic imaging equipment.
Another topic which saw exciting prospects in future forensic practice was the technique of
creating and using alternative contrasts for use in postmortem CT and MRI which could reduce
costs, improve visualisation and reduce the impact of radiological intervention on the rest of
the traditional postmortem process.
Guy Rutty's presentation named Rutty's Rules was given an applause heard throughout the entire
hotel and with his retirement, his contributions to ISFRI will be missed. My personal favourite
presentations were interpretation of post mortem angiography practical cases- Correlation between
PMCTA and autopsy findings in violent death and a presentation on the Pastiche of Natural Disease:
Radiological/Pathological Correlation.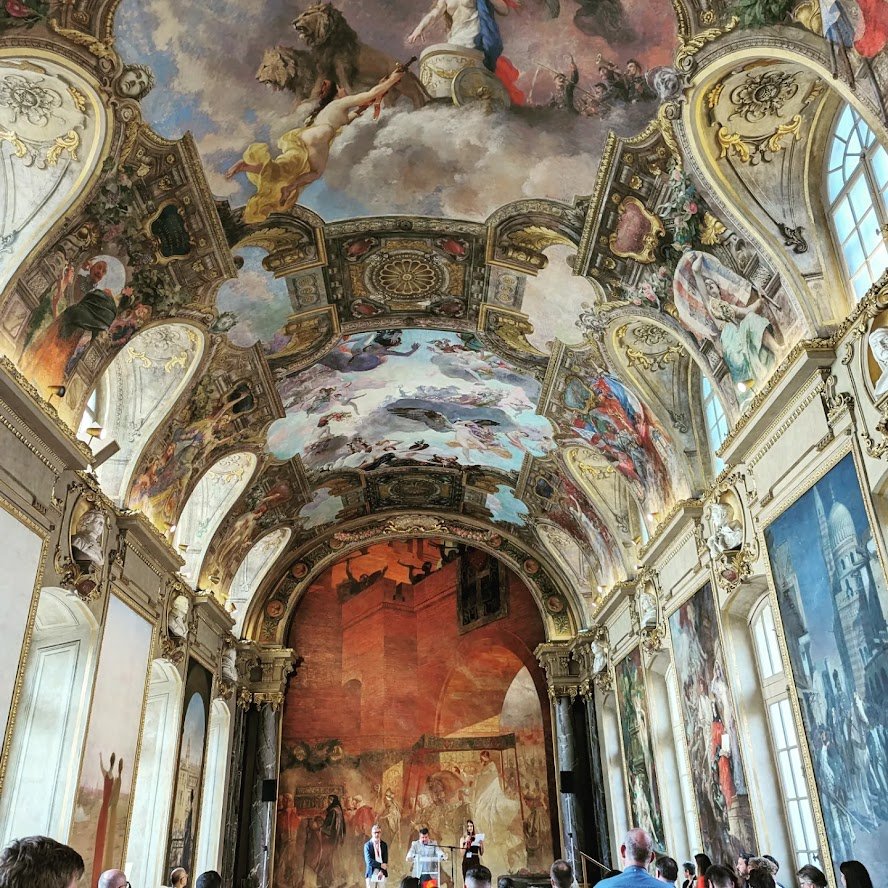 After so many fantastic presentations it was important to refuel and have breaks during the sessions
and the refreshments and food did not disappoint, rather exceeded all expectations of conference
food. Coffee breaks and lunch provided time to enjoy, take in the points presented and catch up with
colleagues and friends As for the social events, starting with the cocktail function at the town hall, I
think most of us thought we had walked onto a movie set when seeing the inside of the building we
were led to. A stunning hall with art pieces and painted walls and roof with stunning coloured murals,
we listened to Fabrice's address before the hall was alive with a social buzz and the wine quickly ran
out.
The gala impressed with a venue inside a historic hospital, artworks and tapestries hanging proudly
on the walls of the dining area. In their formal attire, everyone looked fabulous and relaxed, enjoying
the photo booth and oysters, foie gras and canapes before a delicious 3 course meal to round out the
evening.